First, Which brings us to Lumens. What is a lumen?
Lumens are the raw quantity of light being produced by an object. It has nothing to do with the amount of power that the light uses. Usually a higher wattage means a brighter light, but not always. The number of lumens emitted by your lights determines the general brightness of the lighting in the garage. LED lights are listed in terms of Lumens.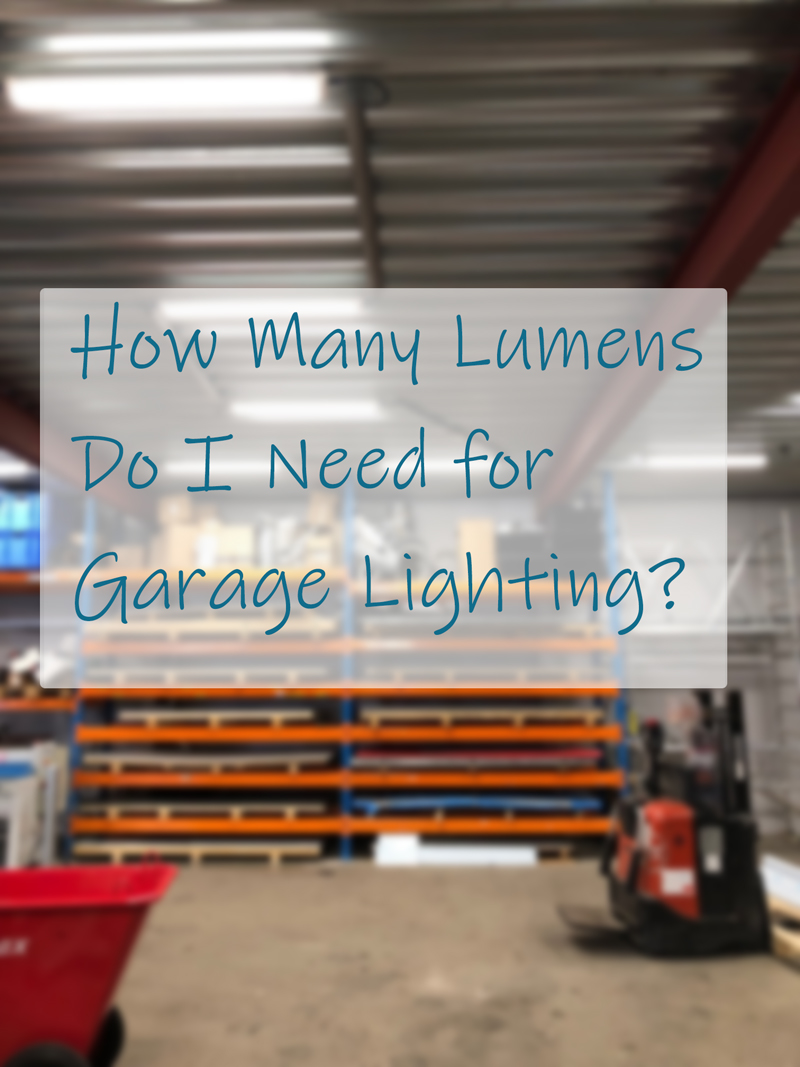 If the Light for a Garage as Workbench Lighting?
To calculate how many lumens you need, you need to figure out the area of your workshop area. The Illuminating Engineering Society (IES) recommends that you have 300 lumens per square foot in a workshop area. People who use their garage as their main workshop or detailing their cars will need a lot brighter lighting (higher lumens) for safety and efficiency than someone who only uses their garage for storage.
 
How many lumens you need for your garage depends on what you're planning on doing in your garage, so there's no "one light fits all" solution. It all comes down to how many lumens you need for your garage.
Customized Various types of AbestTM  LED light is great ideal for garage lighting and we can simulate your target project on DIALux for free after you provide the size of garage.
 
 
There are Some Skills for Calculating Lumens for Garage Lighting:
1. Measure Your Garage
A standard sized, one-car garage is 12′ x 22′, which gives it 264 sq. ft. of space.
Similarly, the average two-car garage is around 20′ x 20′, although there's slightly more variability in size. That equates to around 400 sq. ft. of space.
 
2. Recommended Lumens Per Square Foot
We're going to assume your garage needs a minimum of the same amount of light, at minimum. The Illuminating Engineering Society (IES) They recommend 50 lumens per square foot for an automotive showroom or service area. Who recommended guidelines for lighting based on how space is being used. Even though they're designed for commercial spaces, they offer some useful guidelines which we'll use here.
 
3. Multiply Together
To get how many lumens you need for your garage:
 
A one-car garage (minimum)
50 lumens/Sq. Ft.  x  264 Sq. Ft   =    13,200 lumens
A two-car garage (minimum)
50 lumens/Sq. Ft.  x  400 Sq. Ft   =    20,000 lumens
 
 
There's a more convenient way to know the suitable solution for your garage lighting, contact us to get learn more.
 
We have various kinds of led tri-proof light which are perfect for the garage light even though for the damp location. The typical model is A2001-1200-40W, URG<19 eyes-friendly, microwave sensor and daylight sensor, it's our hot selling product, and classical linear LED tri-proof tube light. Basically, it's popular with their ip65 water-proof, moisture-proof, and dust-proof, the low cost surely.
 
The listed of our LED tri-proof light series   as below:
 
(1) A2001 SERIES  POWER: 20~80 WATTS ( typical linear light)
(2) A2002 SERIES  POWER: 10~20 WATTS ( mini tube linear tube)
(3) A2003 SERIES  POWER: 20~60 WATTS ( Classical vapor-tight fixture)
(4) A2008 SERIES  POWER: 18~80 WATTS ( Economic batten light)
(5) A2009 SERIES  POWER: 20~80 WATTS ( IP69K tube light)
 
The more information of products, please contact Betty freely, Email to sales@botled.com.